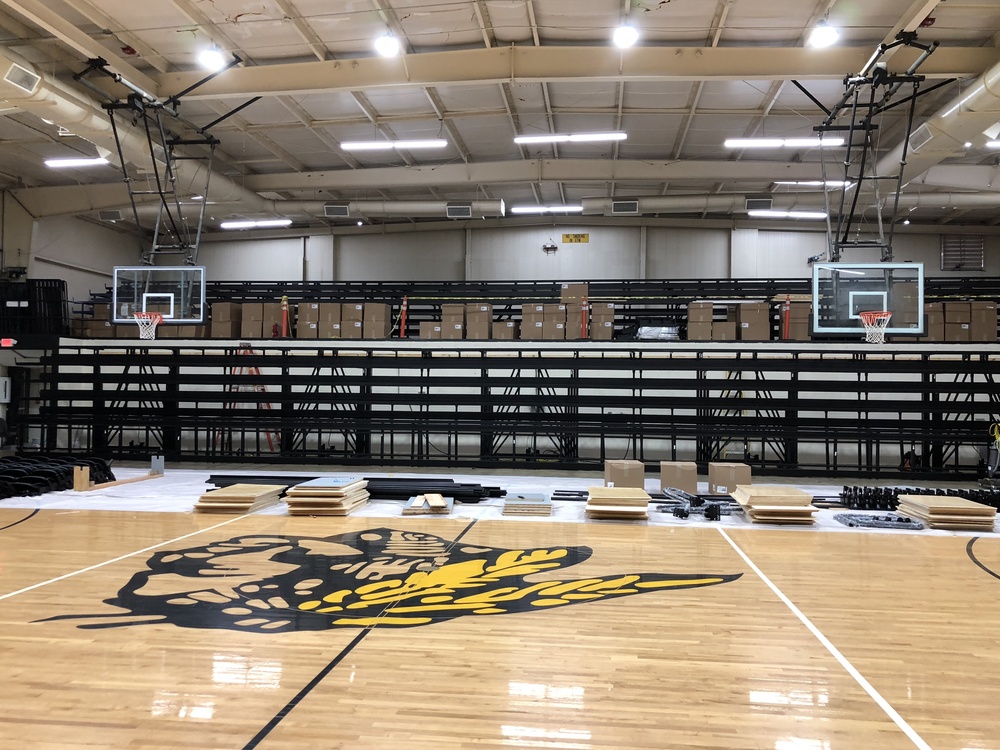 Gym undergoing remodel project
LW
Friday, November 02, 2018
Basketball fans will definitely notice the changes when they enter the gymnasium for the start of the season as a three phase remodel project will be underway. In addition to the new construction of an early childhood center, the community passed bond issues that would provide for an extensive face lift project for the "new" gym and middle school cafeteria. The current facility has been in existence for more than four decades but students and faculty as well as long time alumni have affectionately referred to the basketball gymnasium as the "new" gym. That's because the original gymnasium, native to the old high school campus, is also in regular use and carries the name "old" gym.
According to superintendent of schools, Tom Wilsie phase one of the improvements will be complete and ready for fans to enjoy in early December. Changes involve the removal of the old roll out bleachers on the north side and the relocation of the concession stand back to the lobby. New vinyl chairback/individual seating will replace the roll out seats in an effort to modernize the gym and provide for the comfort of spectators. The south side seating, often referred to as the permanent side has new seat coverings, new paint and long needed hand rails to provide for additional safety. A filming/video stand which was located in the center of the permanent bleachers was also removed to regain seats lost when it was installed. Improved video capabilities do not require the same amount of space as needed in the past.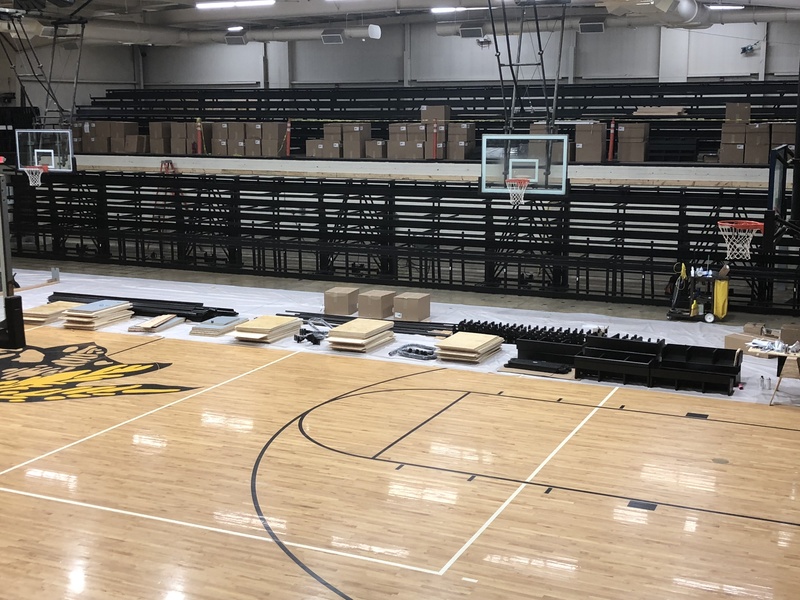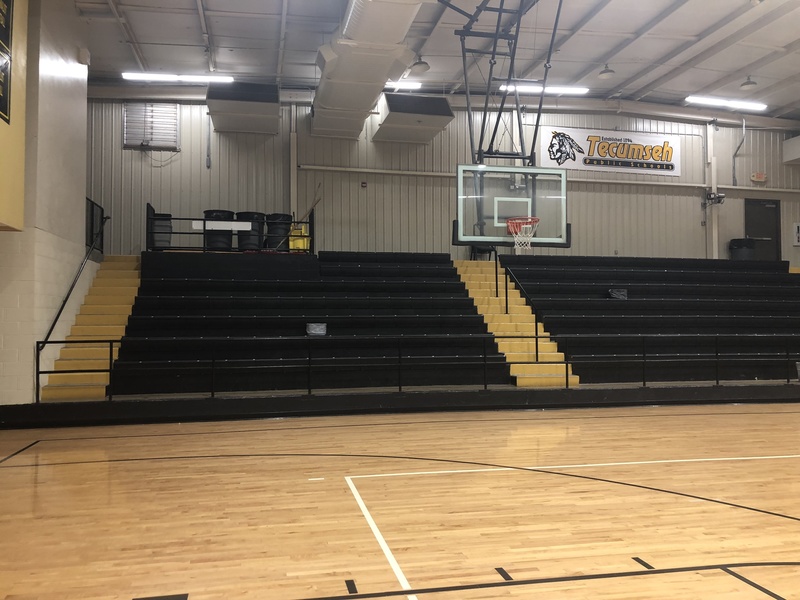 A new scorer's table, movable padded chairback floor seating for teams and a spirit pad to cover the metal rails in front of the permanent bleachers will be added to enhance and complete the look.
"We are really excited for these changes, said Wilsie. "It has been a headache for coaches, players and cafeteria staff as we implement the new look but it will definitely be worth it."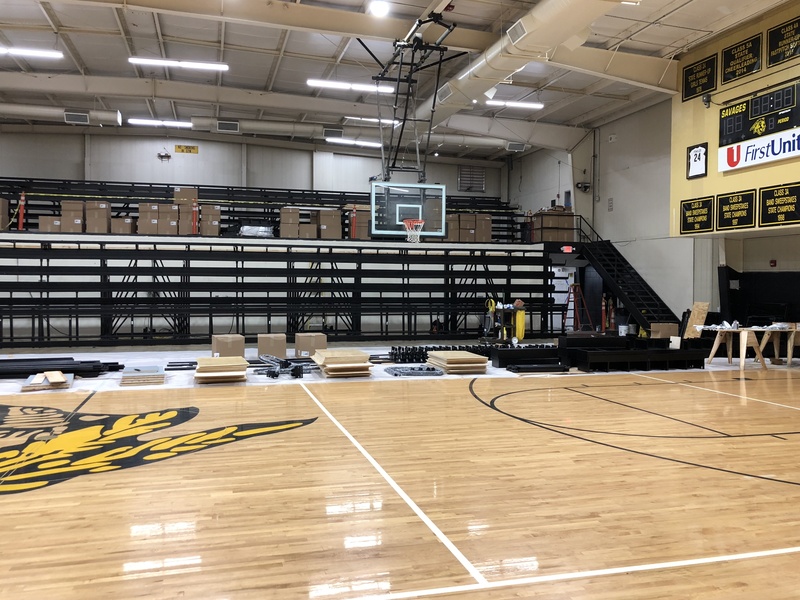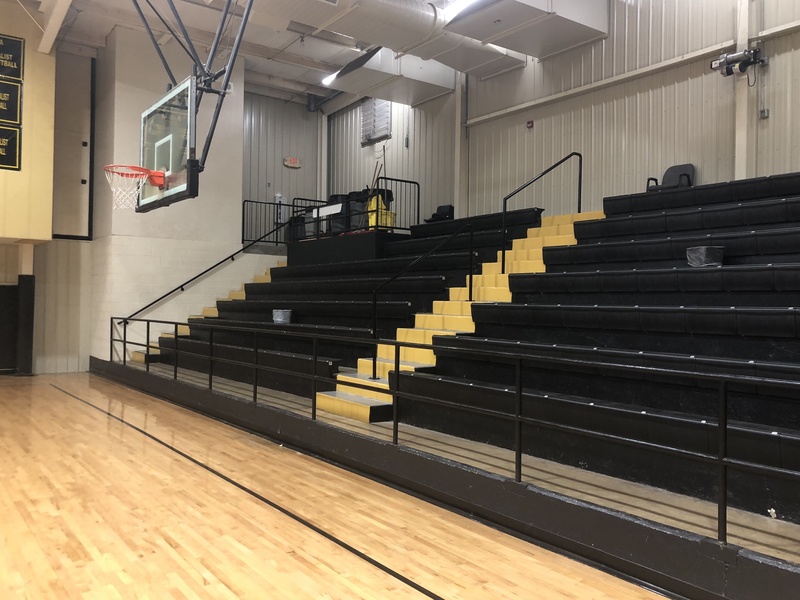 Phase two which will begin immediately following the close of basketball season will be the expansion of cafeteria seating for middle school students and a kitchen enlargement to accommodate the growing need for more space for food preparation and storage.
"Of course food service for our middle school students must go on during this time since we will still have about nine weeks of school left," added Wilsie. "We have a lot of people working together to make sure that the food service runs smoothly and we just ask for as much flexibility as possible."
"Our cafeteria staff has worked through lots of obstacles before and our kids were always taken care of. I have no doubt the same thing will happen again this spring."
Phase three which will take place near the close of the school year will bring enlarged restrooms and enhanced access to serve people with all needs. A new brick veneer exterior and relocation of entry and exit doors as well as additional sidewalks leading to the gym lobby will be added. All of these improvements will not only allow for more people to attend games but more students to be able to sit comfortably on a daily basis for lunch.
"Tecumseh's board of education as well as its patrons have been very concerned through the years that our children have the very best facilities that money can buy. We are so very thankful for their continued support for school improvements. Our kids are lucky to have the taxpayers backing them. It is greatly appreciated," said Wilsie.