Hey Barnard students -- Our Snack Shack fundraising project will be open for business at school on Friday, April 2. We will have lots of snack items on sale for a small price if you want to participate.


Reminder --Tecumseh Public Schools will be on distance learning tomorrow, March 26. School buildings will be closed to students. Student attendance will be counted for this day away from school and login on the Canvas learning platform is required for assignments and meetings with teachers. We will return to in person learning on Monday, March 29.

Rainy weather is causing some problems for spring sports this afternoon. The Tecumseh Middle School baseball tourney is canceled and varsity baseball will play one game with Pauls Valley at 2pm in the Sulphur/Davis tournament. All softball games are canceled for today.

Cross Timbers students and parents - Our Snack Shack concession stand will be open tomorrow, Thursday, March 25. Students will be allowed to purchase snacks for a small price. Thank you in advance for supporting our Cross Timbers fundraising effort.

Tecumseh Public Schools will temporarily switch to distance learning on Friday, March 26 so that teachers and staff can attend the second installment of the COVID vaccine clinic. Student attendance will be counted and login on the Canvas learning platform is required for assignments and meetings with teachers. We will return to in person learning on Monday, March 29.

Students at Tecumseh Public Schools will return to class tomorrow morning at the regularly scheduled time. As families make plans for this coming week please remember that Friday, March 26 will be a virtual learning day for all students so that school personnel can participate in part two of the COVID vaccine clinic.


Pictured are Tecumseh Public Schools' winners in the First United Bank "Rethink Your Drink" healthy lifestyles challenge -- Aries Stout, TMS; Tara Palomares-Kinkade faculty THS; Jill Spencer of First United Bank sponsor; David Axton faculty TMS; and Jessy Thoma, THS. Each winner received a Primo water dispenser for consistently meeting the daily water consumption challenge.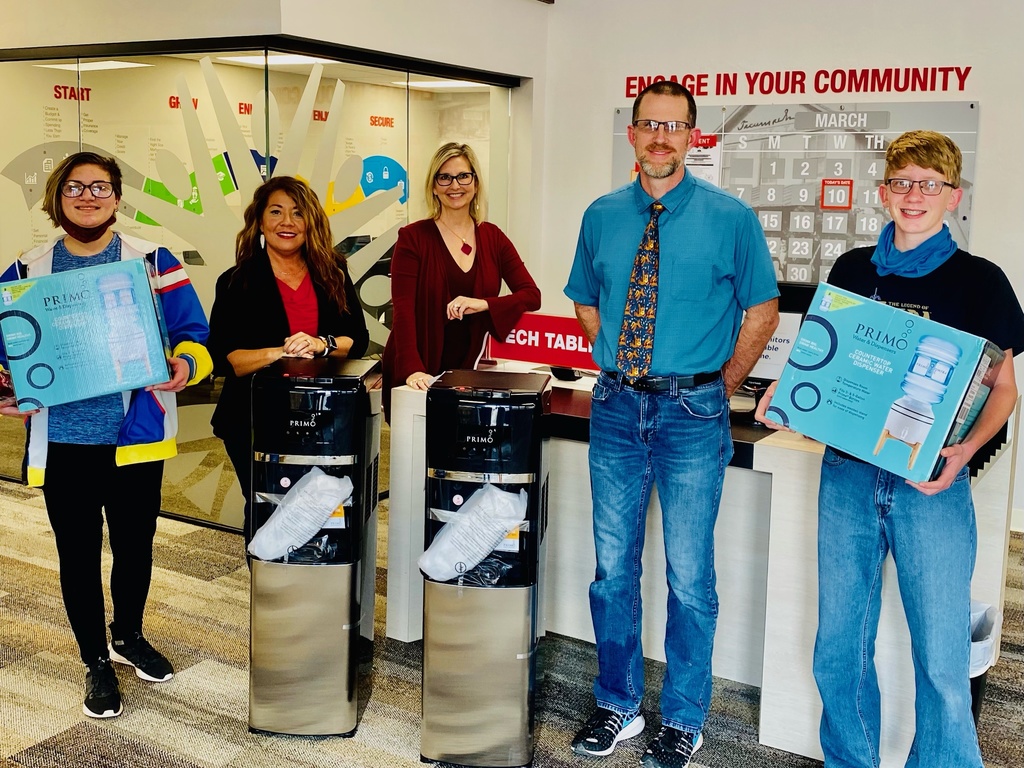 Vacation reminder - Classes will be dismissed on Friday, March 12 and continue to be in recess March 15-19 for Spring Break. This is Reading Awareness Month, encourage your children to check out a great book or two from their school library to enjoy during the time away. Have a safe and fun holiday.


Attention parents of Tecumseh Middle School eighth grade students -- If your child is planning to attend Tecumseh High School next year and you have not already done so, please get them pre-enrolled tomorrow night at the high school. We still have a few open appointment times. Please call the high school office to schedule (405) 598-2113.

THS seniors and parents of Class of 2021 students - Graduation caps and gowns need to be ordered very soon. Graduation ceremonies are May 16 (baccalaureate) and May 19 (diploma ceremony) and proper graduation attire will be required. Call the high school main office at (405) 598-2113 for price details.

Parent-teacher conferences will continue tomorrow evening for students in grades Pre K-eighth grade. If you wish to speak to your child's teacher you can do that by phone, email, ZOOM or face to face. However, you will need an appointment so call the school site offices to schedule. Pre enrollment for high school students is also taking place on Thursday, March 11 from 4:30-8:30. Appointments are required.

Tecumseh students continue to shine in extracurricular activities in the most challenging year of school. Congratulations to our middle school academic bowl team who have secured a place in the state tournament. In addition, our THS concert band will compete in state contest after receiving the highest marks possible in music sight reading and stage performance yesterday. We are very proud of these students, coaches and directors who continue to bring great honors to our school system.

High school juniors and seniors -- Just two days left to get the very best price on prom tickets. See Mrs. Sampson or Mrs. Meyers to buy yours. Prom is April 24.

We are sending good luck wishes to varsity cheerleaders Reagan Yeubanks and Avery Hall who will compete today in the All-State cheer contest at Washington High School.