Basketball with Harrah tonight. Seventh and eighth grade girls are at home starting at 5pm. Two tickets per player can be purchased online at
https://secure.payk12.com/pages/public/landing.html
or you can watch the games on the Tecumseh HS Facebook page. Freshman and eighth grade boys will play away and start at 4:30pm. There will also be a two tickets per player limit and can be paid at the door.

Barnard parents -- Tomorrow, February 4 is our 100th day of school and we want our first and second grade students to celebrate with us. Our kids are welcome to wear costumes that have 100 things attached to it or dress like they are "100 years old" to help us mark this special day of learning. Encourage your children to use their imagination to come up with an idea and participate if they would like.


Varsity basketball update -- The Lady Savages will play at McLoud tonight. JV girls play at 5pm and varsity girls will follow. Games can be viewed on the nfhs network. All boys games have been canceled.

Middle school basketball with Bethel tonight. Boys will be on the road with 7th, 8th and 9th grade games starting at 5pm. Girls will be at home with only 7th and 8th grade games starting at 5pm. Home games broadcast on the Tecumseh High School Facebook page. Games at Bethel can be seen on the nfhs network.

We have an update on tonight's high school basketball games at Little Axe. There will be only two games played, varsity girls and varsity boys. Game start times have been moved up to 5:30 pm for varsity girls with boys to follow. Tecumseh players will be allowed to purchase two tickets. Games will be broadcast on the Little Axe Basketball Facebook page.


Savage sports information for January 26: Varsity and MS wrestling at PC West tonight first match at 6pm. Basketball for jv and varsity at home with Seminole. First game at 4pm. Senior night presentations for the girl's basketball team following the conclusion of the jv boys game about 6pm. JV games on the THS Facebook page, varsity games broadcast on the HUB network. Parents cleared to purchase tickets for tonight's game can order tickets online through this link
https://secure.payk12.com/pages/public/landing.html

The Class 4A district wrestling duals are about to begin. You can view the action for free at
https://blanchardathletics.com/
Tecumseh will face Blanchard first followed by matches with Harrah and finally Newcastle.

Savage basketball update: Boys games with Mount St. Mary have been canceled. JV girls will play at 4pm and varsity girls will play at 6:30pm.

Tonight's wrestling dual with Ada has been moved to the gymnasium on the middle school campus. Middle school wrestles at 6pm with the varsity to follow. Seating is extremely limited but you can view the matches on the Tecumseh High School Facebook page.


Tonight's basketball game lineup will be as follows: jv boys will play at 4pm followed by jv girls. Basketball homecoming coronation will take place around 6pm. These events can be watched on the Tecumseh High School Facebook page. The HUB network will live stream the varsity boys game to be played immediately following coronation and the varsity girls will play the final game of the night. In person ticket sales are limited due to COVID regulations. Student families who are eligible to purchase tickets must have been notified in advance by school officials. Parents you can buy these game tickets here:
https://secure.payk12.com/pages/public/landing.html

Tecumseh varsity and jv basketball boys and girls will be at Jones tonight for games which start at 4pm. No spectators will be allowed but the games can be viewed on the Jones High School Basketball YouTube channel.

Tonight is Senior Night for THS wrestling. Th Savages will have a middle school match at 6pm, followed by presentation of senior wrestlers and then the varsity will wrestle. All activity has been moved to the Tecumseh Gymnasium on the middle school campus. Attendance is regulated, but you can view the action on the Tecumseh High School Facebook page.

The girls middle school basketball games with Jones at home tonight have been canceled. Middle school boys will play at Jones at 5pm. No spectators will be allowed. Games can be viewed on YouTube at Jones Middle School Basketball.

Thank you to First United Bank of Tecumseh on their generous donation of four water bottle filling stations for Tecumseh High School. Traditional school drinking fountains have been closed since the pandemic's beginning and students have had to bring water from home. Students will now be able to safely refill their water bottles during the school day. THS junior Rylee McMillan tries it out for the first time.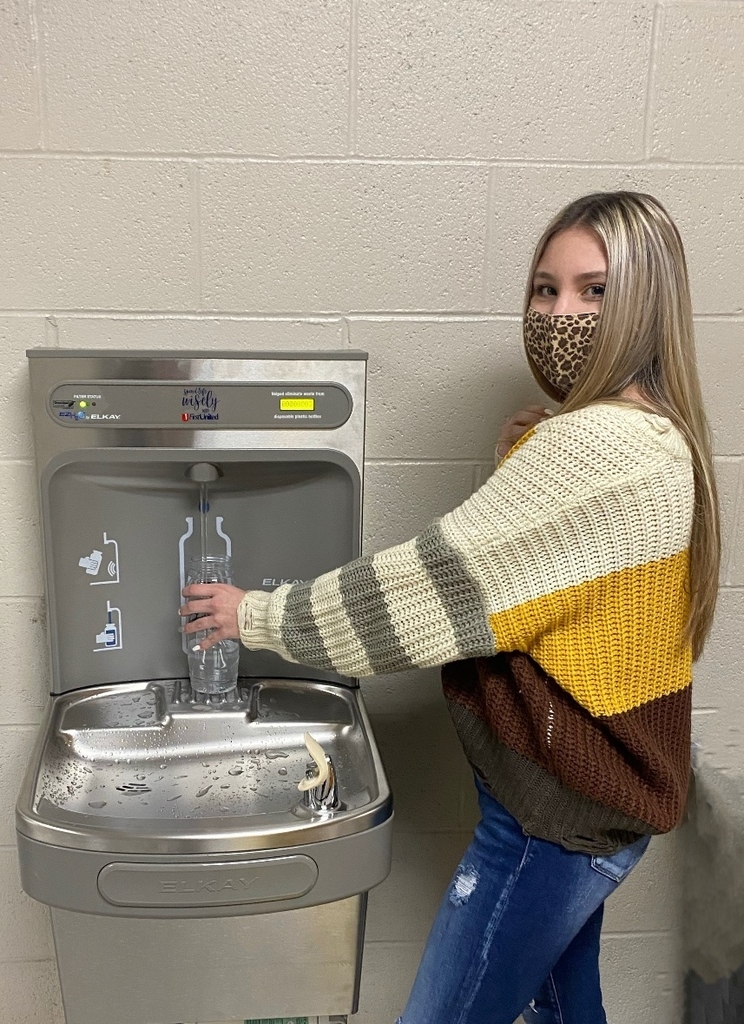 Congratulations to varsity Lady Savage basketball on your second place trophy at the Locust Grove Tournament this weekend. Varsity boys finished fourth at the 2021 Wheat Classic at Chisholm High School.

Both Savage basketball teams have advanced to the second round winners bracket in their tournaments. Tecumseh's girls will play OC McGuinness at Locust Grove at 6pm. You can view this game at locustgrovepirates.tv or the Lady Savage Facebook page. Savage boys will face Kingfisher at 5pm at Chisholm High School. This game can be seen for free at chisholmlonghorns.tv